If you already own a rabbit or two—and live in a moderately pleasant environment (we're not talking about Alaska, here), hosting an outdoor rabbit hutch might be the best idea for you and your rabbits.
Finding the perfect outdoor hutch product, however, might be a little bit difficult since there are so many different brands, types, and sizes out there—even options to make one yourself.
However, if you're looking to invest in the best outdoor rabbit hutch for you and your pet(s), you might want to consider the various features.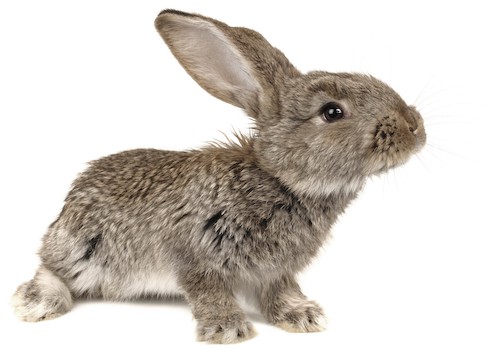 We hope that this guide can help bring out a few points that can help you lead you in the right direction when it comes to buying an outdoor rabbit hutch.
Here's what's coming up:
*PetitePetsWorld strives to be a valuable resource for pet owners. We select and review all products independently; however, we may earn affiliate commissions when you buy through links on our site.
Outdoor rabbit hutch -


TOP 3 in 2021
Aivituvin [Upgrade Version] Rabbit Hutch
Spaciously sized and comes in many sizes
Comes with two deep, leak-proof trays
Made from rot and decay-resistant wood
The sides and roof are made with stainless steel
The cage is built for outdoor and indoor use
Is predator-safe
If you're looking for a rabbit hutch that is sound, secure and suitable for both indoor and outdoor use, then the Aivituvin [Upgrade Version] Rabbit Hutch is for you.
The hutch is not only spaciously designed, but it's also structurally sound. The sides and the roof are made from stainless steel for maximum protection, and because the hutch is made from cypress fir, it not only looks good, but it's also durable and decay-resistant.
This double-decker rabbit hutch is completely predator-proof. That means your small pet will be completely safe from wild-animal attacks, which is very important if you plan on keeping the hutch outdoors.
Added accessories include a PVC curtain that can be detached, a ramp that allows your pet to reach the entrance easily, a metal feeder, and a chewing toy.
The overall size of the hutch is 39.4 x 23.6 x 36.2 inches, and it comes fitted with two trays. Each tray is 1.8 inches in-depth. Furthermore, the trays are designed to avoid leaks and to keep the hay/bedding from spilling out. They're also easy to clean because they slide out.
Aivituvin's double-leveled hutch has doors on the top and lower levels. It also has a sliding door that separates the two floors. These features enable cleaning and taking care of your pet easily.
All in all, this item is an excellent choice for anyone looking to purchase a rabbit hutch that can be used both indoors and outdoors.
+ Spacious and easy to maintain
+ Safe and durable
+ Deep non-leak trays
+ Sliding door to separate top and bottom levels
+ Built from strong materials like cypress fir and stainless steel.
+ Multiple entrances provide easy access to pet
+ Removable ramp
+ Wheels attached to the bottom make the hutch easy to move
- Wheels may cause instability
- Some pets may chew on the wood
LINLUX Deluxe Large Rabbit Hutch
Shelter and large run area
Made from tough fir wood
Finished with a non-toxic varnish and weather-proof paint
Waterproof, anti-corrosion and UV-resistant
Top and side open up for easy access
Ridged ramp for safety
Safe and sturdy
Heavy-duty wire fencing
Suitable for small pets
Outdoor rabbit hutches need to be well-built, strong, and safe to provide small pets safety from predator attacks. The Linlux Deluxe Large Rabbit Hutch is all of those things, and it also has some great additional benefits.
Let's start with the issue of endurance and durability. The Linlux Rabbit Hutch is made from sturdy fir wood. Apart from that, the wooden structure is further fortified, with a long-lasting, non-toxic varnish, and weather-proof paint. The hutch also comes equipped with a slide-out tray to make cleaning the hutch easy.
The design of the hutch is perfect for easy cleaning, feeding, and maintenance. The cage has solid flooring on the top level and can be accessed from the openings provided at the top and the side. It also has a sliding door that provides the pet passage to the lower level, where it can explore and run safely.
The structure and safety of the cage are also strengthened by heavy-duty galvanized wire-fencing that provides extra protection to the lower floor. It means your pets can enjoy their daily dose of sunshine and explore their surroundings without you having to worry about any attacks from other animals.
The cage is large and can easily accommodate a bunny or two. The Linlux is a great option when it comes to outdoor rabbit hutches because it offers your pet safety and comfort.
+ Spacious with a large run area
+ Two levels with a safe ramp
+ Has multiple openings and entrances for feeding and cleaning
+ Strong wire fencing
+ Stable and sturdy structure
+ Can house multiple small pets
+ Is easy to maintain and clean
+ Provides small pets with a chance to explore the outdoors in safety
- Accessories need to be bought separately
- Does not have an entrance ramp
PawHut 64" Wooden Outdoor Rabbit Hutch
Made from weather-resistant fir wood
Includes tight wire spacing to protect from predator attacks
Enclosed corner space has a composite asphalt roof
Safe, sturdy and durable
Has a large running space
Top and side entrances
If you're looking for an outdoor rabbit hutch, there are certain factors you can't compromise on. Your rabbit's safety is probably your number one concern, and it should be. Outdoor rabbit hutches need to be designed not only to prevent predator attacks but also to keep pets enclosed in their cage where they can be safe.
Apart from that, outdoor hutches also need to have ample space to allow the pet to move around and be active. The PawHut Rabbit Hutch is created to do all those things. Its design includes a corner enclosed area, where your pet can rest, and a larger open space where it can explore and run to its heart's content.
The hutch is also very compact, which means it can easily fit in a smaller space. If you're looking for a hutch that will fit in your humble backyard, then the PawHut Hutch is perfect for you. This hutch also has several openings so that you can lift your rabbit out of it easily. The top section can be opened to gain access to the inside space for effortless cleaning.
The PawHut Hutch is made from high-quality fir wood, which adds to the hutch's durability and weather-resistant qualities. This outdoor hutch will make an excellent choice for any rabbit owner who doesn't want to compromise on issues like safety and quality.
+ Has a compact and durable design
+ The hutch has multiple openings
+ Enclosed corner space provides safety and resting space
+ Enclosed space has a composite asphalt roof
+ Made from high-quality fir wood and weather-resistant materials
+ The design offers a lot of running space
+ Tight wire spacing protects from predators
- The hutch only has solid flooring in the enclosed area.
- It only has one level
Before you buy, please take into account that one outdoor hutch can be completely different than the other. Whether it's from its size, type, material, or build, there are so many differentiating factors. 
To help you figure out which one is best for you, here are a few of those features:
What Size Rabbit Hutch Do I Need?
Before closing your eyes and picking a size, you need to factor in whether or not you have one or more rabbits and the size of that particular breed. 
You should also be aware that the smaller the hutch is, the more likely it is that your rabbit will meet a few problems—like lack of exercise, pain, and possible loneliness.
The lack of space may also induce certain self-harming behaviors, like hair chewing or pawing, since they don't have the area they need to play and move around.
The RSPCA generally recommends that the minimum size of your hutch should be as follows:
The weight of your rabbit plays into account—the total square feet should equate to the pounds of your rabbit.
The height of your hutch should be tall enough for your rabbit to be able to stand up without its ears touching the roof.
If you plan on or already have more rabbits than one, you'll need to have a bigger hutch.
What Style Hutch Do I Need?
If you've ever bought a home or looked for one to rent, you're probably familiar with all the various ways you can be picky about it.
With a rabbit hutch, it's not that much different.
However, with all the different styles, a "hutch and run" seems to be the best style for an outdoor hutch. This style has a sleeping area with an adjoining, open exercise space.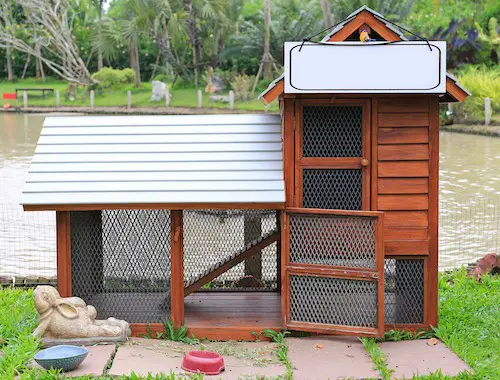 Normally, they are surrounded by wooden frames and wire mesh fences. However, you definitely want to make sure that it's weather and waterproof—but we'll get more into materials later.
How to Make Sure Your Hutch is Predator-Proof
Although there are some pretty sly predators that can find their way in, there are certain features that can help prevent that from happening as best as they can.
The Wiring: Chicken wire might be good at keeping your rabbits in, but might not be the best to keep predators out. You might want to think about investing in stronger cage wire if the risk of predators is considerable where you live.
The Locks: If your young child can figure out a lock, a sly fox or another predator can also most likely solve the problem, tucking in for an evening snack. We would definitely recommend that you make sure the hutch is secure with either a complicated mechanism or a very secure bolt and entryway.
The Flooring: Since not only rabbits like to dig to get out but also foxes and other predators might dig to get in, you will want to consider the floor of the hutch. Placing it on grass that is accessible to the rest of the yard via underground, animal-made tunnels won't keep your rabbits safe. Consider placing the hutch on concrete or wooden panels. 
You can also consider getting a mesh or metal grate for the floor that can help make it easy for you to clean out your rabbit's droppings as well as help prevent them from getting a UTI.
This grate, however, really shouldn't cover the entire floor, just a part of it, normally located near the sleeping area, which should be cleaned out at least once a week—depending on how many rabbits you have.
The Material: As you're shopping through the market for outdoor rabbit hutches, you'll most likely notice that they're made out of either plastic, wire or wood.
These wooden hutches, although they can be weather and waterproof, normally tend to be much harder to clean, which makes it more difficult for the owner.
The wire material of the hutch is a bit more stable than wood but can be less comfortable for your rabbit—in particular, their paws.
Plastic is also another option but may be lacking when it comes to durability and trying to keep predators out from chewing on the material.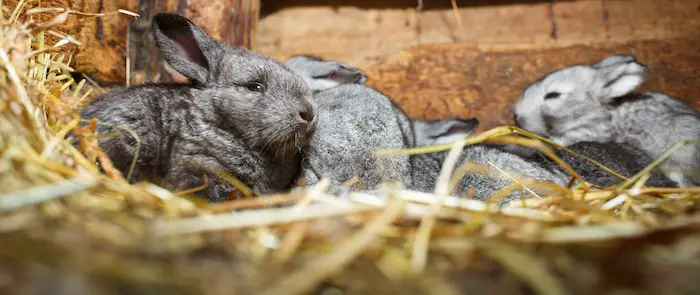 Make Sure They Have Good Hiding Places
In the wild, your rabbit instinctually understands that they are going to be prey rather than predator.
So, as a natural instinct, they normally look for a secure location where not only do they feel safe, but they also are able to hide when they feel threatened or not-so-safe.
This re-treatable place should be built into the outdoor hutch as a private, sheltered area. Having this option in your outdoor hutch is extremely important for their well-being since you want to make them feel as if they have a place to feel secure.
Fortunately, most outdoor hutches keep this aspect of a rabbit's behavior in mind so it shouldn't be too hard to find.
You Might Not Want to Let Them Loose
Although they might be giving you those bunny eyes to let them hop around free of fencing and borders, you should consider supervising them when they have that sort of freedom.
You have to constantly keep an eye on them to make sure they're not running around eating things they're not supposed to—even the most harmless-looking plants in your garden can be deadly for your rabbit.
If they're heading towards over-growing bushes or tall grass, you also want to be careful, since predators may have found their way in and are waiting patiently to make their pounce.
What Does a Rabbit


Need in Its Hutch?
Every rabbit hutch is different—and so is every rabbit. Although two rabbits of the same breed can have similar needs and mannerisms, they may actually have quite the opposite personalities. So, before you buy any rabbit cage, there might be some other features you're interested in. 
For example, certain accessories can make your rabbit feel much more comfortable and at-home than even the highest-quality (or most expensive) outdoor hutch. 
If you're looking for a budget-priced hutch, then consider adding in a few of these accessories to make your rabbit feel the most comfortable:
1. Keep them hydrated with a drip-feed water bottle.
This can ensure not only that your rabbits are healthy and hydrated, but even the smallest of the rabbits will have access to fresh water.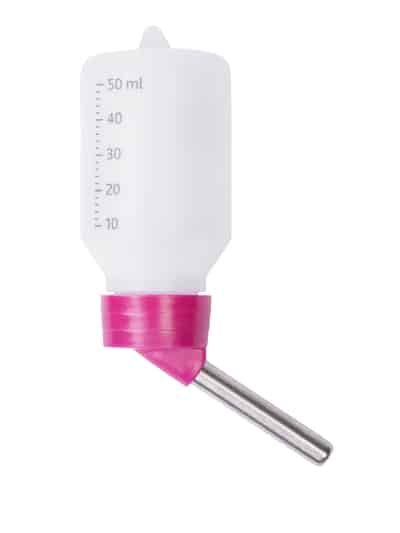 2. A food bowl for their pellets and other rabbit treats.
This helps you also designate a particular area where your rabbit will get used to eating, which can minimize the mess and also encourage them to defecate far away from their food—which will help keep them healthy. If you can spare the change, invest in a ceramic or stainless steel bowl.
3. Chew toys or other materials can also help.
Having chew toys around the hutch can not only help keep your rabbit's teeth growth down but also will keep them entertained. A bored rabbit is an unhealthy rabbit.
You'll need to keep that in mind when investing in accessories to keep your bunnies occupied. You can get these at any pet shop or online — it doesn't matter if they're toys or chew balls.
4. Bedding can help them feel comfortable.
Particular bedding can also help them organize where to go to the bathroom, where to sleep, and where to eat—so they don't get those mixed up.
For bedding, your safest bet is to buy untreated, organic material at the pet store. It can be wood shavings, litter shavings, shredded paper, or paper towels. There are many different types of beddings to choose from.
How Do You Clean


An Outdoor Rabbit Hutch?
About once a week, you should take the time to clean the hutch. Not only should you make sure all old food or bedding is removed and replaced, but you should also clean the drip tray and food bowls. You can do this more than once a week, as well.
However, after you've removed the accessories and are ready to replace the bedding, clean the hutch with a good scrub. Simply soapy water can get the job done.
If it's sunny, you can let it dry on its own. However, if it's not a particularly sunny day, you might want to consider towel drying it.
Make sure your rabbit is in a safe place while you're cleaning the outdoor hutch.
FAQ on outdoor rabbit hutch
Before you buy—whether you're a first-time rabbit owner or not, you might have some questions about investing in an outdoor hutch. 
To help you out, here are the answers to our most frequently-asked questions:
Before you buy and place in your hamster's cage, here are a few last-minute questions you may have about the best hamster bedding for your little guy:
We hope this article has helped you with finding not only the best type of bedding for your hamster (no matter what type they are) but also has given you proper guidance, tips, and instructions on what the best features are to look for in hamster bedding. 
*Disclaimer: As an Amazon Associate we earn from qualifying purchases. That means we receive a small commission from Amazon if you should decide to purchase a product through our link - but don't worry, you won't be charged any extra for it.
We only recommend products we truly believe are of value to you, and we believe in ourselves. Our goal is to make this site a truly valuable resource for all pet owners.