The home of your rabbit can dictate a lot about how comfortable your bunnies will feel.
Especially since you've decided to keep the cage inside, it's important to understand that inviting the rabbit into your home is only half the battle—there's so much more to that to make them feel at home.
The right indoor rabbit cage can complete the feeling of home.
In this article, we're going to go through the features you need to know before investing in an indoor rabbit cage to help your pet live his or her best life. 
Let's dive in!
Knowing where to place your indoor rabbit cage can also make or break your pet's experience. Obviously, the amount of size you have in your home will impact how much space you have to work with to place your indoor cage.
The most important detail to keep in mind here is that your bunny or fully-grown rabbit definitely needs a quiet spot in the house. However, it's also important that the spot is not completely isolated. 
Keeping them at least safe from other household pets like cats and dogs is also important—you don't want them living in fear their whole lives!
If you live in an area that has harsh winters, you'll want to keep the cage in a dry area that keeps relatively warm.
You should make sure your bunny not only feels safe in his or her cage, but that they actually are.
A quiet location and a small private space they can retreat to will give them that feeling of safety, but you will need to consider a few other things as well when looking for a cage.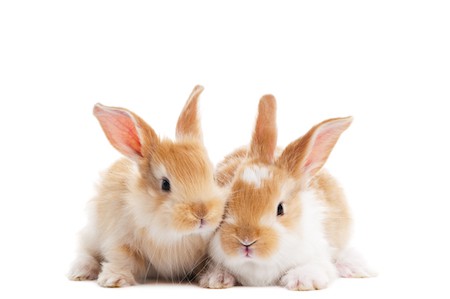 The spacing between the bars of the cage needs to be suitable. If the spacing is too big, your rabbit might be able to escape its cage, and if it is too small, you risk your rabbit getting caught between the bars. The bar spacing may vary depending on the size of your pet, but you can rely on popular and professionally designed products to have adequate spacing.
Another good reason to choose a cage from a well-known manufacturer is that you can be sure the materials are safe for your rabbit. The plastic should be non-toxic in case your rabbit will chew on its cage, and there should be no dangerous chemicals when manufacturing supplies for pets.
Another thing you should consider is that the doors of the cage allow for easy cleaning and playtime while closing firmly to keep your pet safe. 
Even if you plan on housing just one rabbit, the option to invest in a cage with more levels than just one can make a difference in the comfort of your pet. Especially small and active rabbits may enjoy a cage with more than one level.
Although you may feel like it's a luxury, multi-level cages can be bought from 2-story (also called a double rabbit or double-decker) to even 3-story cages.
If you don't have much space on a horizontal level in your home, a multi-floor rabbit cage is a great way to increase space without having to branch out into an indoor space you simply don't have.
If you plan on a rabbit cage with more than one level, you should always make sure the ramps are wide enough for your rabbit to use safely. You should also make sure each story has enough space for your rabbit to stretch out comfortably. Although a multi-tier cage is a great way to give your pet more space in a small home, each level should still give your pet plenty of space.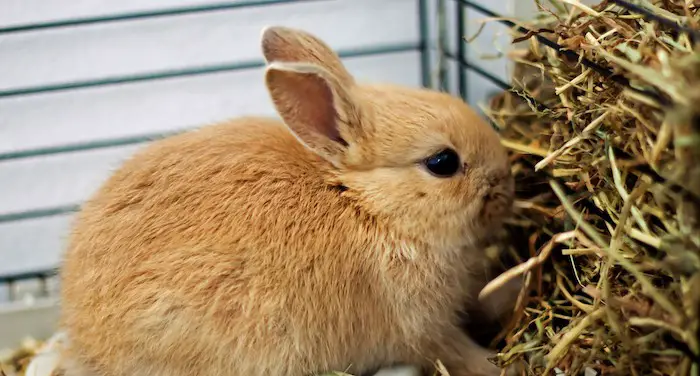 In addition to the cage, your rabbit will need a few accessories to be healthy and comfortable.
Any bunny will, of course, need a water dispenser because hydration is important. The best water bottles are ones that can be firmly attached to the cage and are designed to avoid dripping. A water bottle that drips or leaks will wet the bedding and not keep your rabbit dry and comfortable in their cage.
Your rabbit will also need a hay dispenser which will keep the hay fresh and clean. If you just place hay on the bottom of your rabbit's cage for them to feed on, it may become contaminated with urine or feces before you pet has the change to munch it up. A feeder will keep hay and food clean and your rabbit healthy!
Rabbits can be trained to use litter boxes, and you should definitely consider using one in their cage. They often instinctively use one corner to do their business, and this is a good starting point for litter training. It may take some training, but when you get your rabbit to use a litter box, it will help you keep their cage clean and prevent nasty odors. For indoor rabbit cages, we recommend plastic litter pans which can be attached to the bars of the cage.
To keep your rabbit entertained, you should get them a few toys. Although pet rabbits often spend their time nibbling on food or resting, they also enjoy activities and playtime. Toys will keep your pet entertained and stimulated, which positively affects their health.
When purchasing an indoor cage, take a look to see if the purchase of the cage also comes with accessories that you'll need anyways for your rabbit, like water bottles, hay dispensers, litter box, and toys, etc. This can help save you some money!
In addition to giving you rabbit fresh food and changing its water every day, you will also need to do a weekly cleanup.
You might want to change the litter in the litter pan more often, but the bedding in the cage should be replaced once a week.
Knowing how to clean and maintain an indoor cage is important when deciding on what kind of cage to get. Especially since the last thing you'll want when housing a rabbit is the smell contaminating your house, you'll want to take maintenance and cleaning very seriously.
We recommend cages with plastic pans as bottoms, because they keep the bedding inside the cage and are easy to clean. You should make sure that the top and bottom are easily separated for a thorough cleanup, and that you can easily access the litter box, water bottle, and food dispenser for daily maintenance.
You should change the bedding and wash the bottom of the cage with a mild soap every week. While changing fresh bedding, you should also wash the water bottle and food dispenser since bacteria an mold can easily grow in them.
The materials and design of the indoor cage also play essential parts in getting an ideal indoor cage. Although the rabbit isn't necessarily a particularly violent animal and the destruction of its enclosure isn't exactly a realistic threat, you'll still want to consider a cage that is thoroughly and durably designed.
A cage with a plastic bottom and wire top is usually the best bet when looking for an indoor cage for your rabbit. Choosing a cage from a well-known manufacturer guarantees it is durable, and the materials are safe for your pet.
FAQ on indoor cages for rabbits
Before you buy, there are a few details you might need to be aware of. To help you out, we've collected the most frequently asked questions that we've seen from customers of indoor rabbit cages and have answered them for you here:
We hope that this guide has helped you choose the perfect indoor cage for your rabbit.
Especially if this is your first time choosing a pet's enclosure, you'll definitely want to do your research when comparing one enclosure from the next. This can help you feel confident in your choice and help ease the experience of housing your rabbit indoors.