Although when young they barely are the size of your palm, owning a guinea pig can be a handful at times.
However, before you get into learning the habits and behaviors of the guinea pig, it's important that you invest in a home for it that feels not only comfortable but also safe.
Having a habitat will protect it from any harm and secure its needs.
This guide can help you choose the best cage for your guinea pig.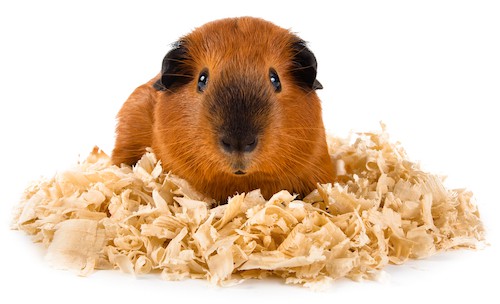 *PetitePetsWorld strives to be a valuable resource for pet owners. We select and review all products independently; however, we may earn affiliate commissions when you buy through links on our site.
Best Cages for Guinea Pigs -


TOP 3 in 2021
Small Pet Select Natural Paper Bedding
Provides 8 square feet of space as recommended by veterinarians
Suitable for one or two guinea pigs
Washable and leak-proof with a PVC-lined canvas bottom
Durable and safe
Easy to clean and maintain
Easy to access and ideal for first-time cavy owners
For indoor and outdoor use
The cage is easy to assemble and disassemble without any tools
Travel-ready in minutes by simply folding
Modular design for expanding when needed
Cage dimensions 47 x 24 x 14 inches
The Midwest guinea pig habitat is one of the best options for an adaptable and easy-to-maintain guinea pig home. Not only does it have over 8 square feet of space, but it also comes with the option of adding extra barriers. These barriers can help you separate different areas of the cage for toys and litter, for example.
Your guinea pig cage needs to have plenty of space for it to move around and be stimulated. Guinea pigs are known to become depressed when bored, and this can affect their health. This cage is large and will give your cavy ample room for play.
Another benefit of the Midwest Guinea Habitat is the durable PVC canvas bottom, which is perfect for protecting a cavy's sensitive feet. Furthermore, the canvas bottom can help contain any spills or leakage, and it easy clean when needed.
The cage is also ideal for someone who values mobility. The habitat is not only easy to dismantle (you can simply fold it), but it's also easy to store or move around.
The habitat is suited for indoor and outdoor use, with a wire mesh that is designed to protect your cavy from predators. Also, the sides of the cage are up to 14" in height to keep your pet safe and secure — a perfect habitat for anyone wanting to take their pet for exciting outings.
If you want to allow your guineas to explore the great outdoors, you can simply place the cage in your garden. It will allow them to explore and play inside the safety of the habitat.
+ Ideal for indoor and outdoor use
+ Spacious with dividing barriers
+ Durable and easy to clean
+ Leak-proof PVC canvas bottom liner.
+ Can hold up to 2 guinea pigs
+ Easy to store and move
+ Modular design to create a larger space
- Accessories sold separately
- May be tricky to move when expanded with additional modules
This spacious habitat is ideal for small pets such as guinea pigs
Comes fitted with a drip-proof water bottle
Includes a tip-proof feeding bowl
Built-in hay guard for hygienic feedings
Practical design with a platform, good ventilation, and deep plastic bottom
Includes two wire-top openings and a side-door opening for easy access
Is available in standard, large and extra-large sizes
Easy to assemble with plastic clips
The habitat measures 46.9 x 22.8 x 24 inches
Do you want your guinea pig to live like the proverbial king or queen?
Then look no further than Living World's Deluxe Habitat. The deluxe habitat is not only spacious, but it has also been designed to provide your cavy with all the mental stimulation it needs, to keep boredom at bay.
The habitat has a balcony with an access ramp so that your guinea pig can overlook the world from a high viewing point. The cage also has a hideaway for when your pet feels like keeping to themselves. That sounds excellent, doesn't it?
The Deluxe Habitat also has an elegantly styled arched top made from red wires, that gives the cage more height. And it gets even better: the top opens up so that you can have easy access to your furry friend. Cleaning, feeding, and socializing are effortless with these large openings on the top while the wire frame keeps your pet safe and secure.
Another plus point of Living World's Deluxe Habitat is the fact that it comes with a tip-proof feeding bowl and a drip-proof water bottle, so you won't have to buy these items separately. Despite its size, the cage is easy to assemble without the use of any tools.
While the habitat might not be easy to move, what it lacks in mobility, it certainly makes up with extra-interior space and other amenities.
+ Spacious cage for one or two guinea pigs
+ Easy to assemble, no tools needed
+ Available in various sizes
+ Comes with feeding bowl and water bottle included
+ Built-in balcony with access-ramp and a hideout
+ Durable and sturdy materials
+ Safe and secure habitat or your pet
+ Excellent ventilation
+ Two large openings on the top
- Not as mobile as some other cages
MidWest Homes for Pets Wabbitat Deluxe Rabbit Home Kit
Comes with an elevated eating space and a hideout
Comes equipped with a hay feeder, water bottle, and feeding bowl
Easy access provided by two doors
Deep, mess-free plastic bottom
The cage is designed to be easily cleaned
Can be assembled without the use of any tools
Expandable with separate extensions
The habitat measures 39.5 x 23.75 x 19.75
Even though this cage is advertised as a rabbit habitat, it's suitable for all types of small pets, including guinea pigs. It's designed to provide small pets with a large and comfortable home to keep them happy. The cage can be assembled easily without the use of any tools.
The MidWest Rabbit home kit comes equipped with a hay feeder, a water bottle, and a feeding bowl so that you can make use of it immediately as soon as you receive it. All the accessories are removable so that you can clean them efficiently.
The cage comes with an elevated feeding space, which leaves a lot of room free for your pet's play area. The Midwest Homes Pet Wabbitat also has a large 8.5" plastic pan that makes for easy cleaning and maintenance.
Another plus is the 1" mesh-wire spacing that provides you proper visibility and keeps the cage well-ventilated. The cage also has two doors so that you can access your pet easily.
The side door can be reset overhead, whereas the top door is designed to give you maximum access during cleaning, feeding, and socializing.
+ Spacious and ideally designed for one or two guinea pigs
+ Includes a hay feeder, drip-proof water bottle and feeding bowl
+ A deep plastic pan that can hold plenty of bedding material
+ Removable base to provide for easy cleaning
+ Well-spaced wire mesh to provide for excellent visibility and ventilation
+ Two large openings for easy access
+ Easy to assemble without any tools
+ Can be expanded with a hutch or wire extension
- Can only be expanded with only two extensions
How to Choose the Best Guinea Pig Cage -


Things to Consider
The following are the essential features that you should consider to find the best cage for your guinea pig.
How big does a guinea pig cage need to be? To be comfortable and happy, one guinea pig will need a minimum of 7.5 square feet of space. Generally speaking, 30" x 36" is a good size for a cage with one guinea pig.
If you have two guinea pigs, 7.5 square feet is minimum, but we would recommend having 10.5 square feet to make sure your pets have enough space to live a happy life. A cage that is 30" x 50" is a good size for two pets.
The running space should be rectangular or square and also have ramps and other interconnected platforms. This space should give the guinea pigs enough space to play around in.
A cage for a guinea pig should be made from strong, durable materials that can withstand the chewing nature of your pet. This is because guinea pigs like to chew on anything—to help their dental hygiene and simply to combat boredom.
Materials such as plastic or wood are ideal for the cage.
Just make sure that you buy a high-quality cage since cheaper and thinner plastic could potentially be chewed through.
The bars in the cage should be made of metal, so chewing through them won't be an option.

Choose a guinea pig cage that has plenty of ventilation to allow proper airflow in and out of the cage.
If the cage is left untidy or without proper ventilation, your guinea pig may suffer from respiratory problems.
You should also make sure there is enough airflow in those part of the cage where your guinea pig can retreat to when they need time alone. Often these pets like their peace and quiet, and although they love their hideouts, you need to ensure there is always a good supply of fresh air.
Even if you're living in a home with air conditioning, consider that artificial light or a room filled with sunlight can make the space increasingly hotter.
A suitable temperature to place the cage should be between 65 to 75 degrees Fahrenheit. Extremes temperatures are not suitable for guinea pigs as they can get heatstroke and humid conditions can lead to mold development on their beddings and hay, which can cause illness.
Guinea pigs also have sensitive hearing, so their cages should not be placed near sources of noise such as a busy kitchen, near stereo systems or a television set.
Guinea pigs also like socializing, so placing them in a living room will satisfy their needs, and you can give them more attention—or a place near to other pets but still safe from them.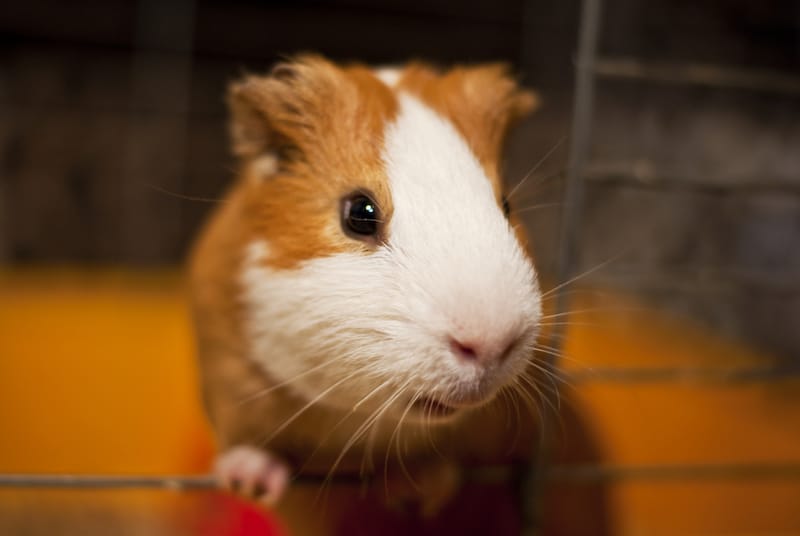 The best cage for guinea pigs should last a lifetime, and that can be achieved by regularly cleaning it. If you take care of routine maintenance, the cage won't start to smell and become stained.
Choose a guinea pig cage that has a steel top, making it easy to clean and durable as well. A plastic, sturdy base pan is also easy to wipe down or wash with mild soap.
The top and bottom should be easily separated, and having a big opening on the top and side will give you easy access for daily upkeeping.
The cage that you purchase should also be easily accessible. 
It should have several platforms and double doors—especially if there is more than one guinea pig in the cage. 
The doors should be wide enough for you to easily switch out the water, clean the area, and feed and remove the guinea pigs. If you're placing the guinea cage outside, choose one that has lockable doors to help keep the guinea pig inside, safe from exterior dangers (like other animals!).
Hiding spaces are important to help guinea pigs feel comfortable, and to have somewhere to go when they feel threatened.
Especially since guinea pigs are often considered prey and not predators, it's essential to their nature to feel safe burrowed in somewhere in or near their habitat.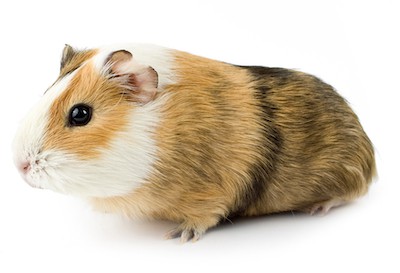 If you have more than one guinea pig, having hiding spaces for each one of them is essential since they may also need their own space separately from each other.
You should make sure the guinea pig cage you get is lightweight and can be easily picked up. This will help you move the cage for cleaning or if you want to take your pets outside on a warm and sunny day.
Cages with a plastic bottom and wired top are usually a perfect option if you want a portable cage. Large wooden hutches, on the other hand, are not as easily moved around.
You may also want to consider getting a smaller travel cage for taking your pet to the vet. You can always use a small cardboard box for such trips, but your guinea pig may feel more safe and comfortable in a travel cage that allows it to see its surroundings.
If you want, you can choose a cage that has several levels. If you plan on housing multiple guinea pigs, this can be a great feature, giving each guinea pig enough space to play around.
Ensure that the distances between each level are not too big to prevent your guinea pig from being injured if they fall. Also, make sure the ramps are wide enough, and the material is not slippery to avoid injury.
Having multiple levels is a great way to prevent boredom as it gives your pet more space for playing and moving around.
The bar spacing should be no more than 1 inch between the horizontal and/or vertical bars. This spacing is important if you're housing a baby guinea pig who is less than two or three months old since they can easily escape by squeezing through the bar space.
Too small of a bar space can also be dangerous, as your guinea pig may get trapped between the bars. By choosing a cage from a well-known manufacturer, you can be sure the spacing is suitable and safe for your pet.
How to Clean a Guinea Pig Cage
The following are the steps that you can follow to clean your guinea pig's cage:
1. First, take your guinea pig outside of the cage gently to prevent them from hurting themselves since they can be nervous. Place them in a sheltered (and roped off) area or a preferred place with less noise.
2. Before cleaning their cage, clean and brush their hair first.
3. Now, remove the bedding and all remaining food and waste. You can use a mild detergent to wash the cage, but remember to rinse it carefully with hot water to prevent your pet from being exposed to chemicals.
4. Dry the cage using a paper towel or let it air dry if you have enough time. This is an important step because a wet surface can lead to mold build-up, which can affect the health of your guinea pigs.
5. Refill their bowl with water and food. Place fresh nuggets and hay in the cage.
6. To make sure that their surroundings are hygienic, clean the floor where the cage is kept and its surrounding area.
7. Repeat this cleaning process once a week.
FAQs about Cages for Guinea Pigs
Before you choose a cage to buy, here are the answers to some frequently asked questions:
We hope that this article has helped you pick out the best cage for your guinea pig or pigs. Please keep the tips in mind as you make your choice.
*Disclaimer: As an Amazon Associate we earn from qualifying purchases. That means we receive a small commission from Amazon if you should decide to purchase a product through our link - but don't worry, you won't be charged any extra for it.
We only recommend products we truly believe are of value to you, and we believe in ourselves. Our goal is to make this site a truly valuable resource for all pet owners.