There is a lot of healthy food for guinea pigs in the market to choose from, which means that you'll have an array of great choices—which can ease your worry if you're a first-time guinea pig parent.
Fortunately, it's also not that hard to find the best food for your guinea pig because they're not exactly picky-eaters when it comes to time to chow down.
Regardless of their need (or lack thereof) for an elite section, there are still so many different brands of guinea pig foods to pick from which vary in nutritional value, taste, and price.
To help you sort out which are best for your growing guinea pig, this guide will go through the various features of everything you need to know.
Giving your guinea pig healthy food with high-quality ingredients can enable them to live a longer, healthier, and happier life.
Here's what's coming up:
Types of Food for Guinea Pigs
Depending on their previous ownership, you might want to do a little bit of a "history" research on your pet on what they're most accustomed to. This can play a part in which type of food to choose from at the beginning of your ownership with your guinea pig.
When it comes to choosing which food to invest in, a guinea pig can either feed on
store-bought food or
fresh food. 
To help you choose which is best for your pet, here are a few details of each type:
Guinea Pig Hay and Pellets - Store-bought food
For a convenience factor and because of open-guided nutrition information, most guinea pig owners choose to feed their pet store-bought hay and pellets.
When it comes to hay products, a blend of the orchard, timothy, and oat hay is preferred.
Alfalfa hay is also acceptable, but it should not be the main part of your guinea pig's diet because it contains too much calcium. To help stay clear of mildew and mold, guinea pig hay should be stored in a cool and dry place in between feeding times.
It is important to supplement your pet's hay with small amounts of pellets that are high-quality, plain, and healthy. The pellets you purchase should also be specifically made for guinea pigs since there are so many different kinds.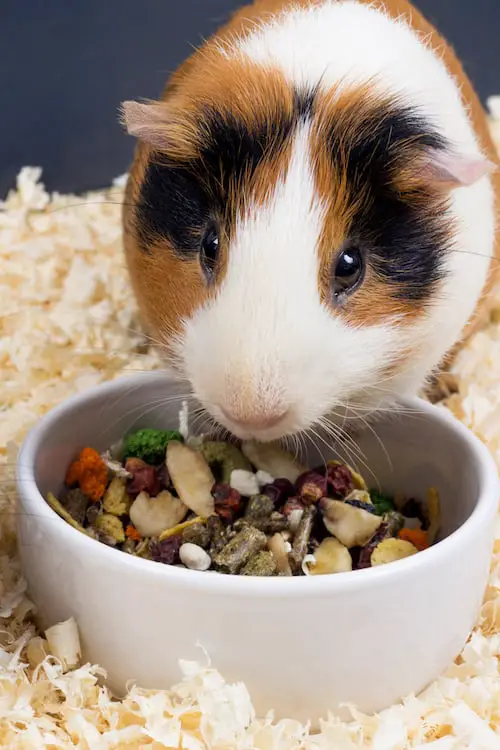 Fruits and Vegetables for Guinea Pigs - Fresh food
Fresh veggies and fruits are great supplements and treats for your guinea pig if you're deciding to go au naturale with your pet's diet.
You can use these fresh foods as treats when training or bonding with your pet.
The following are examples of the fresh foods that are safe to feed your guinea pig:
Watermelon
Tomatoes
Strawberries
Lettuce
Parsley
Green peppers
Cantaloupe
Blueberries
Cucumber
Bananas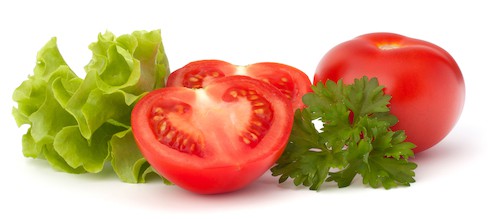 When it comes to ratio, there should be more vegetables than fruits in your guinea pig's diet. This is because fruits are more of a sweet treat to your pet.
If you're giving fruits as a treat, check the cage at the end of the day and remove any leftovers to help prevent rot or mold development.
How Much Food Do Guinea Pigs Need?
Generally, guinea pigs don't tend to overeat, but it is important always to feed them a healthy and balanced diet comprising of hay, pellets, fresh fruits, and vegetables.
A 1/8 cup of pellets with fresh vegetables and an unlimited amount of fresh hay is enough for the day. Guinea pigs need to continuously feed on fresh hay all day because it is necessary for their digestion and to limit their teeth-growth.
One cup of fresh vegetables per day is also recommended for your guinea pig. Leafy greens such as kale, parsley or romaine lettuce should be the bulk of your guinea pig's fresh food. Add sweet potato, zucchini, and carrots to their diet once or twice in a week.
Fruits should be used as occasional treats which can be offered in small portions once a day or a few times in a week.

 Since fruits are high in sugar, give them a smaller portion. A thin slice of banana, several blueberries or a small wedge of apple or orange is enough.
When introducing new vegetables and fruits to your guinea pig, do it slowly to avoid diarrhea. If your pet develops loose stool, then decrease the quantity of fresh food for a few days until the stool changes, then re-introduce it slowly again. You can also ask your vet about your pet to get personal advice on their dietary behavior.
When to Feed Your Guinea Pig
Because guinea pigs are herbivores, they essentially graze all day. 
They munch on vegetables and hay all day. Therefore, it is important to make fresh food constantly available.
The best thing to do is to dump out your pet's water and food every day and replace with fresh water and food after cleaning the bowls.
Foods to Avoid –
What Should Guinea Pigs Not Eat?
Not all vegetables and fruits are safe for guinea pigs. The foods in the list below are considered dangerous for most pets—but especially guinea pigs.
They are labeled as being toxic foods for cats, parrots, and dogs, as well. Also, avoid feeding your guinea pig human 'junk foods' which are normally salty and sweet even if they are not made of toxic ingredients.
Avoid feeding your pet the following fruits and vegetables:
Raisins
Onions
Grapes
Garlic
Coconuts
Chives
Avocados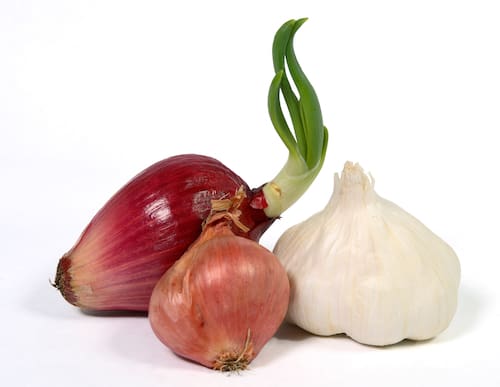 Since guinea pigs don't eat onions or garlic, that eliminates the possibility of feeding most of your cooked food, as well, since most recipes call for either.
However, regardless of this "avoid" list, it's important to feed your guinea pig a diet full of high-quality pellets, hay, and treats of fresh veggies and frequent pieces of fruits.
Things to Consider When Buying Guinea Pig Food
Lastly, to help you finalize a decision on one particular guinea pig food brand, consider the following features to help you pick out the best purchase for your pet:
The different types of guinea pig food are made with different ingredients; therefore, ensure that you purchase the food backed by the healthiest ingredients. 
Foods with high-quality ingredients will give your guinea pig the nutrition they need for their growth. The most suitable food for your guinea pig should be one that is free from artificial flavoring, synthetic colorings, as well as chemicals.
Guinea pig food normally come in a bag size—which is generally somewhere between 5 lb and 10 lb. Smaller size bags will be easy to store and are generally preferred for younger or smaller guinea pigs. 
However, a larger bag can help decrease the need to head to the pet store as often as you would need to with a smaller size.
Just like humans, the needs for guinea pigs change with age.
Depending on where they are in their life cycle, it is important to give your pet the food that they need at their current age. If your guinea pig is 1 year old and above, they actually can be fed adult food.
You should also consider the type of hay that you give your guinea pig. Hay has dry grass in it, but there are different types of grass, meaning they have different nutritional values.
FAQ on guinea pigs eating and feeding
The following are answers to the most frequently asked questions by guinea pig owners—especially first-time guinea pig parents:
Finding the right food for your guinea pig is important for their health and growth. 
Since there are so many different types and brands foods in the market for guinea pigs, we hope that this guide has helped you make a decision. 
Make sure that the ingredients are safe and nutritious for your pet. Feeding your guinea pig the right amounts of food is also important. Following the above guide will enable you to choose the best food for your pet and follow the dietary regulations to keep them healthy.
Read more about Guinea Pigs: