Dwarf hamsters are pocket pets really small in size. An adult dwarf hamster can weigh up to 2 ounces and grow up to 5 centimeters long.
However, despite their tiny nature, they're very energetic and thrive off of moving a lot and require more space than you may think. 
If you're an owner of these tiny powerhouses, finding the perfect cage for them should be your priority to keep them healthy and happy.
This buying guide will give you the information that you need to purchase the best cage for your dwarf hamster.
Here's what's coming up:
Types of Cages for Dwarf Hamsters
There are different types of cages for dwarf hamsters available in the market.
Some pet owners prefer to keep their dwarf hamsters in metal bars while others prefer an aquarium-like tank. You need to choose a cage that fits your needs and helps keep your hamster safe at the same time.
Below are the different cage options to choose from:
Wire-Top Dwarf Hamster Cages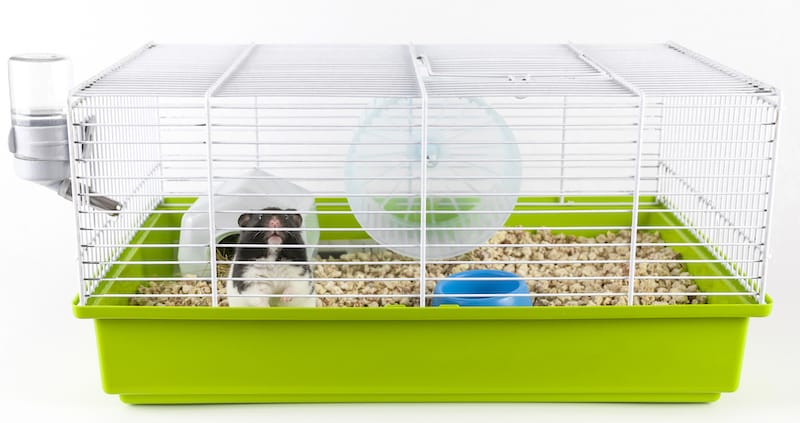 These are the classic cages for dwarf hamsters that have been used by pet owners for a long time. This is because they are:
durable,
cheap, and
easy to clean.
They provide enough space for your hamster to move and can have more levels in them for more than one hamster.
The main setback for these wire cages is that they allow dwarf hamsters to escape—especially since they can be the best escape artists. To avoid this from happening, make sure that the bar spacing is narrow, and there are no gaps and holes that can easily allow your pet to escape.
Another setback of the metal cage is that it can produce a lot of noise—especially if your dwarf hamster decides to climb up the cages or likes gnawing at the bars. It will be better to put the cage away from your bedroom to avoid disruptive noise while you're sleeping.
This cage is perfect for housing more than one dwarf hamster depending on its size, and you can add accessories such as wheels to keep the hamster(s) entertained.
Hamster Glass Aquariums/Fish Tanks
An aquarium is beneficial in that there is less chance for your dwarf to escape because there are no metal bars or gaps for them to try and squeeze in between.
Another benefit of keeping your dwarf hamster in an aquarium is that it allows you to watch your pet without any metal bar intrusion. These cages are also quieter, and your hamster may not be able to climb up, making it ideal for keeping it near you when you are sleeping.
The main setback for this type of cage is the price—since a new aquarium can be expensive. You can find a cheap second-hand aquarium online, but the big tanks will not be cheap. It's also not so easy to clean an aquarium since they are pretty heavy to maneuver and that might be a bit of a hassle since it's ideal to clean it out every week.
The traditional aquarium comes with no tank topper to allow for maximum ventilation and prevent the build-up of ammonia, which can help keep your dwarf hamster healthy.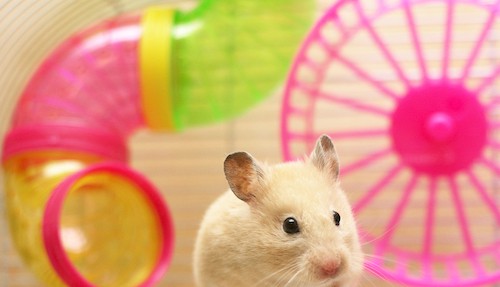 Some owners argue that they are too small, while others prefer the simulation that they provide.
Although these cages don't have a huge amount of space, they provide plenty of activity. They are the most varied habitat for your pet and give an interesting environment that can be a great killer for boredom.
The best way to use this habitat for your dwarf hamster is to buy a few of them separately and link them up using tubes and tunnels. This way, you can create a hamster mansion that will provide enough space for your pet to exercise and explore.
This type of cage may also be expensive because of the hamster toys and other parts that have been incorporated.
11 Features to Consider


When Buying a Cage for a Dwarf Hamster
The following features will help you in deciding the best cage for your dwarf hamster:
Dwarf hamsters can be tiny creatures—but they are full of energy. 
They explore, move a lot, and run wild. A small cage can cause boredom for them. It can also affect the temperature of your dwarf hamster and its ability to respond to illnesses or infections.
Wild hamsters are known to travel up to 5 miles in one night; therefore, it is better to buy a bigger cage if you can. You can expand your hamster's cage by connecting it to other cages.
According to regulations, the minimum size should be 24 x 12 inches, and the height of the cage should be a minimum of 12 inches tall.
Apart from providing good ventilation, wire cages are safer for your dwarf hamster because they cannot chew through the wire and escape.
This, of course, only applies if the bar spacing is suitable for a small pet.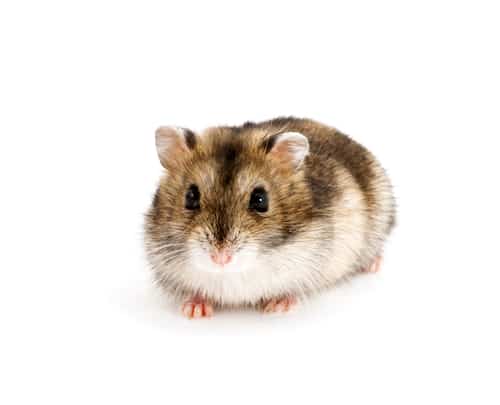 On the other hand, cages made of plastic are vulnerable to chewing by your hamster and may not give enough ventilation if not designed properly. However, plastic is durable and easy to clean.
You can also choose to buy a tank—which is more durable and will be less of a problem when it comes to escaping.
Fresh air is necessary for the good health of your dwarf hamster.
Generally, wire cages provide the best ventilation. However, some aquariums and modular cages, although they have various compartments, don't provide enough ventilation for your pet unless you leave the top of the aquarium open.
When buying these types of cages, make sure to pick one that has a proper design to ensure fresh air for your pet.
Since you'll be cleaning around once a week, good cages should be designed to make the cleaning process easier. They can have bases that are detachable for easy cleaning.
The easiest type of cage to clean is the wire cage with a plastic tray.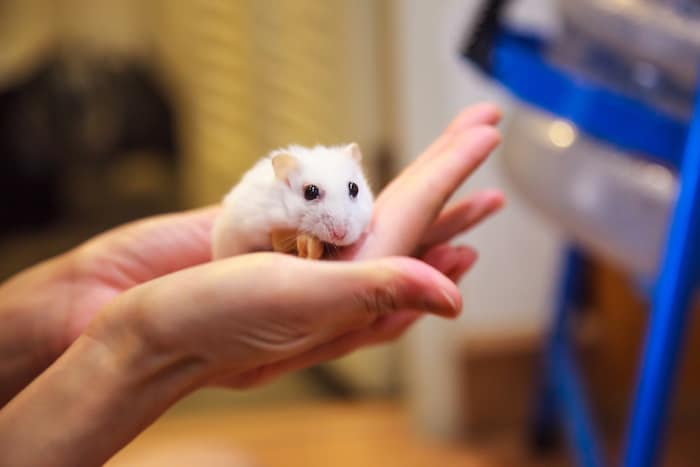 All you need to do when cleaning this cage is to lift the wire off the bottom, clean the bedding and wipe the base and the wire.
Elaborate cages that have a lot of compartments with tubes and other accessories are more difficult to clean, but if they can be rinsed with water, cleaning should not be a problem.
Since dwarf hamsters are tiny creatures, they can easily squeeze through the bar spacings and escape.
This can be dangerous since they can be easily injured while outside their cage. The ideal bar spacing for your dwarf hamster is a quarter-inch.
The cage you purchase for your dwarf hamster should be easily accessible for cleaning and replacing their food and water. 
The cage should have a lid with a decent size that you can put your hand in when cleaning or removing things from the cage. You shouldn't have to remove a whole part of the cage or take it completely apart.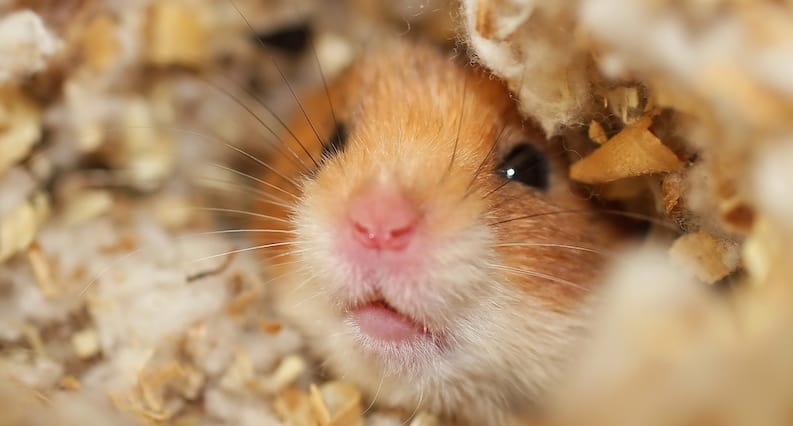 Dwarf hamsters like to hide because it is their normal burrowing behavior—especially as wild prey.
They love to explore and create hideaways mostly beneath their bedding for playing and sleeping. They also like hiding spaces for their food.
Having a cage with tunnels, structures, and hideaways for your dwarf hamster will allow them to feel at home.
Dwarf hamsters need different types of toys to allow them to play, explore, and exercise. Having toys inside the cage is important for exercise purposes.
You can get them:
Hamster wheels with a proper size and solid surface to prevent injury.
Plastic balls can also keep your pet running around and is a great way for them to exercise.
Chew toys are necessary to keep their constantly growing teeth in good condition.
You should be able to move your dwarf hamster's cage from one part of your house to another without much difficulty. 
There are portable cages for dwarf hamsters available on the market, and you can find one that suits your needs and that of your pet. The cage should not be heavy to carry around or move it when you want—or need—to clean.
Some cages have just one level, while others have multiple levels.
Cages with multiple levels can be dangerous because your hamster can easily fall, but they can provide a more intriguing environment—especially if you own more than one hamster.
Accessories – What do Dwarf Hamsters

Need in their cage?
Similar other species of hamsters, the dwarf hamster cage requires some basic essential supplies, these include:
Aspen is widely regarded and has the safest bedding material for dwarf hamsters. Other woods like cedar and pine can be quite dangerous.
For the nest, cotton materials are most suitable.
Your dwarf hamster needs access to food inside the cage. 
Find a small food container that can easily hold food pellets. Another essential is water access—a small hanging water bottle that has a spout for the hamster to drink from is a necessary accessory. Most cages will actually include a water bottle.
Like humans, dwarf hamsters require physical exercise to maintain a healthy, balanced life. Since they live most of their life inside, they need access to exercise equipment inside the cage. 
The most common exercise piece is the wheel, but you can also purchase small climbing frames to keep your dwarf hamster physically stimulated.
Everyone deserves the right to privacy, even your dwarf hamster!
Build them small sleeping quarters inside the cage so they can peacefully shut off from the world and relax in their own space.
How to Clean a Dwarf Hamster Cage
One of the best advantages of having a dwarf hamster is that they like to de-compartmentalize their living quarters and will keep their sleeping, playing, and toilet facilities very separate.
That being said, there are some important tips you should follow to help clean and maintain your hamsters to ensure they have a maximum lifespan.
Daily Spot Clean: Every day, you should wipe down its potty and remove any soiled bedding to prevent the spread of any disease.
Weekly Full Clean: The entire cage should be cleaned every week. This should be done on the same day every week to ensure your furry friend knows the routine.
Place the hamster in a safe place while cleaning: It goes without saying, but do make sure you keep the hamster in a secure location while you have removed it to clean the cage.
Cleaning Everything: At least once a week, wipe down all the surfaces and wire bars with hot water and antibacterial soap to ensure the cage is free from any harmful bacteria.
White vinegar for odors: If the cage is a bit smelly, use white vinegar to wipe down the surface since this is an effective, natural way to remove odor.